From quinoa for breakfast to lots of dark chocolate for dessert, here are 27 ways to eat your way to better skin.
1. Blueberry and Walnut Smoothie
Blueberries, one of nature's most potent antioxidant-containing fruits, provide the color for this simple, healthy smoothie. If you don't have walnuts on hand to whip up homemade walnut milk, choose your favorite variety of milk (but keep in mind that some studies link whey-protein-based dairy to skin conditions, including acne, thanks to its insulin-boosting abilities). If you can't make walnut milk, try throwing a few whole walnuts in there anyways — they contain a healthy dose of magnesium, which is important for healthy blood flow in the skin.
2. Quinoa Breakfast Cereal with Berries and Almonds
Your typical morning breakfast may feature oatmeal, but switch things up with quinoa for an extra dose of protein. Whole grains, including quinoa, are a rich source of selenium, which can improve skin elasticity. Blueberries are high in anthocyanins (one of many antioxidants, which fight off the damage in our bodies caused by free radicals). Almonds are a high source of vitamin E, known to protect our skin from the sun's rays.
3. Kale, Apple, Raspberry, and Goji Green Smoothie
Sip your way to healthy skin with this superfood-packed smoothie. Leafy green kale contains high levels of vitamin K, an essential vitamin known to suppress inflammation (which can result in acne or wrinkles). Chewy, tangy, and sweet goji berries are a rich source of antioxidants, known to ward off the signs of photoaging (aging of the skin often caused by sun damage), including liver spots, freckles, and spider veins. Apples are also a healthy-skin super-fruit; Fuji and Red Delicious rank highest for antioxidants.
4. Pumpkin Pie Baked Oatmeal
This fall-friendly breakfast is warm and comforting, but it also features two healthy skin-promoting foods: oats and pumpkin. Foods high on the glycemic index (which measures how much a specific food raises blood sugar levels when consumed) can increase inflammation, and as a result, wreak havoc on our skin. High GI foods (like white bread, for instance) spike blood sugar levels because the body digests them very quickly, while low GI foods, like oatmeal digest slowly. Pumpkin, on the other hand, has loads of beta-carotene, a provitamin that converts to vitamin A (known to improve aged skin).
SALADS
5. Kale Salad with Pomegranate Seeds and Meyer Lemon Vinaigrette
Perfect for a light lunch or side salad, this healthy skin medley features kale, avocado, quinoa, pomegranate seeds, pecans, goat cheese, and a homemade Meyer lemon vinaigrette. Leafy greens, especially kale, are high in antioxidants and vitamin K — both of which help the skin look young (antioxidants because they help slow down the process of aging, and vitamin K because it protects the skin's elasticity). Pomegranate seeds boast super high levels of polyphenols (an antioxidant also found in cranberries).
6. Nicoise Salad with Charred Fish
This hearty salad incorporates tons of Mediterranean staples, including fish, beans, green beans, olives, capers, and red bell pepper. Studies have found that the Mediterranean diet — composed primarily of fruits, vegetables, whole grains, fish, beans, nuts, and olive oil — can protect against acne thanks to high fiber, antioxidant-rich, and Omega-3-packed foods (all of which help protect the skin from acne flair ups).
7. Roasted Beet, Plum, and Kale Salad
Perfect for late summer or early fall, this colorful salad highlights beets, plums, and tomatoes. Beets contain the antioxidant betalain in a higher concentration than most vegetables, and research shows beets may also help reduce the risk for skin cancer. This salad also includes tomatoes, which are a great source of lycopene, an antioxidant found to reduce skin roughness. And to round things off, the antioxidant kaempferol — found in kale — may be therapeutic to skin burns.
8. Orange Fennel Salad with Date Vinaigrette
Topped with just fennel, onion, oranges, and walnuts, this salad is a cinch. Quercetin, an antioxidant found in fennel, has been found to help treat psoriasis (an inflammatory skin condition) as well as diminish fine lines and wrinkles. The sweet and spicy homemade dressing is a little more involved, but it's easy to make up a big batch and freeze some for later. The dressing uses dates for sweetness rather than refined sugar (a known trigger for acne).
MAIN DISHES
9. Zucchini Chickpea Burgers
This burger, made up primarily of chickpeas, quinoa, and grated zucchini also features a hearty serving of sunflower seeds. Foods high in vitamin E, including sunflower seeds, help prevent acne development and may help acne-scarred skin heal. Plus, zucchini is 95 percent water, and hydrated skin makes for healthy, supple skin. The green veggie is also a great source of Vitamin C, a nutrient required for healing damaged skin.
10. Lemon Herb Salmon
This recipe, featuring omega-3-rich salmon, is a healthy skin superstar not just for its nutritional profile, but also for its low-grease preparation — baking instead of frying. While consuming certain foods can affect our skin from the inside out, greasy food causes problems the second it touches our mouths. Grease from fried food that touches our faces is a recipe for clogged pores. Opting for baked recipes versus fried can reduce all that grease.
11. Almond Crusted Chicken with Raspberry Sauce
Crushed nuts replace breading as a gluten-free alternative to coat chicken and create a crispy outer crust. The almond-based crust contains high levels of vitamin E, which helps protect the skin from sun damage. The sauce uses onions and cherries, both of which have high concentrations of polyphenols, which help protect the skin from free radicals. For an even healthier sauce that's better for the skin, try a homemade cherry compote that uses less refined sugar (the sweet stuff has been linked to not-so-perfect skin).
12. Sesame-Soy Salmon with Carrots and Edamame
This flavorful meal is quick and simple. Feel free to serve it over a bed of greens like bok choy or spinach. Salmon, rich in omega-3 fatty acids, may help keep inflammation (which can show as redness on our skin) under control. The dish also features edamame (soybeans), which research links to wrinkle reduction.
13. Flaxseed Crust Veggie Pizza
A cheese-less pizza with a crust made of seeds and vegetables may not be traditional take-out fare, but there are multiple reasons this meal is good for healthy skin. For starters, the omega-3 rich flaxseeds that make up the crust have been shown to reduce redness. The "cheese," primarily made of pine nuts and nutritional yeast, is skin-friendly for two reasons: The nuts contain skin-renewing vitamin E and zinc, and the dairy-free topping won't spike insulin levels (which have been linked to acne) the same way real cheese does.
14. Tuna Stuffed Bell Peppers
Though tuna is not the most typical main ingredient for stuffed peppers, it is a great source of selenium, an antioxidant that may protect skin from UV-induced damage. Plus, peppers have loads of Vitamin C, an antioxidant involved in the production of collagen, which helps maintain skin firmness.
SOUPS
15. Roasted Red Pepper and Tomato Soup
This colorful soup gets its hue from two veggies known for improving skin health. Tomatoes are a rich source of lycopene, a skin healthy antioxidant. And cooking tomatoes actually increases the concentration of lycopene. Red peppers, on the other hand, are loaded with vitamin C — which is associated with better skin-aging appearance.
16. Roasted Carrot Soup
The main ingredient of this comforting fall soup — carrots — is an excellent source of vitamin A, which prevents the overproduction of cells in the skin's outer layer (That means there are fewer dead cells hanging around to clog pores.)
17. Black Bean and Sweet Potato Chili
This non-traditional chili incorporates gluten-free and vegetarian ingredients, including pepper, black beans, sweet potatoes, and — of course — lots of spice. Sweet potatoes have tons of Vitamin C, which is known to smooth the appearance of wrinkles. Plus, black beans are a good source of folic acid, an important nutrient for protecting the skin from damaging UV rays.
SNACKS AND SIDE DISHES
18. Roasted Eggplant, Red Pepper, and Garlic Spread
This simple but tasty spread features three good-for-the-skin ingredients: eggplant, garlic, and red pepper. Eggplant contains the antioxidant nasunin, known to protect cell membranes from damage, while garlic has been used as a remedy for skin diseases and dandruff. Finally, the veggie that gives this dip its bright red color, red pepper, staves off the effects of skin aging with high levels of vitamin C.
19.  Quinoa with Roasted Squash, Dried Cranberries, and Pepitas
For a simple fall salad, all it takes are some dried cranberries, cubes of roasted butternut squash, and toasted pepitas. Also known as pumpkin seeds, pepitas are an excellent source of zinc, which helps maintain collagen strength and promotes skin renewal. Eating plenty of whole grains, such as quinoa or farro, is a cheap and easy way to maintain healthy skin since they too have free radical-fighting antioxidants. The third and final main ingredient, cranberries, ranks highly among other fruits for both antioxidant quality and quantity.
20. Oysters on the Half Shell
There's not much to this hors d'oeuvre, but kicking back oysters can provide a healthy dose of zinc (a necessary mineral to stave off a variety of skin problems, including acne and the skin disorder inflammatory dermatosis)
21. Red Grape and Chicken Salad Wraps
This no-cook snack wrap is refreshing and easy to compile. The sweet ingredient — red grapes — is a good source of the antioxidant anthocyanin, which helps maintain good circulation in the body as well as strengthen collagen (the basis for the structure of skin).
22. Spinach Pumpkin Seed Energy Balls
No need for pricey pre-packaged energy bars when you can whip up your own nutritious, homemade version. These little bites combine mixed nuts, pumpkin seeds, dates, spinach, and cocoa. While all of these ingredients have healthy skin properties, spinach contains high levels of folate (a vitamin that may protect the skin from skin cancer) and nuts are chock full of the antioxidant flavonoids.
23. Sauteed Spinach with Garlic, Figs, and Honey
For a sweet and savory side, this garlicky spinach will do the trick. One of the main components of this dish, figs, contains flavonoids (the powerful antioxidant that may play a significant role in cellular aging in human skin). The other sweet ingredient, honey, has antioxidants in the form of phenolic compounds. And to round things off at the antioxidant party, both spinach and garlic have tons of antioxidants.
DESSERTS
24. Dark Chocolate Avocado Truffles
This sneaky dessert features a secret ingredient — avocadoes. The creamy green fruit contains high levels of pantothenic acid (also known as vitamin B5). A number of B vitamins, including B5, promote healthy skin by decreasing oil production and reducing the size of pores.
25. Chocolate, Pomegranate, Ginger Bark
This super simple dessert melds sweet, tart, and spicy. The pomegranate seeds are a rich source of polyphenols, an antioxidant known to protect against the adverse effects of UV radiation. Chocolate contains flavonols, an antioxidant that protects the skin against UV rays. Look for dark chocolate with a cacao content above 70 percent for higher antioxidant power.
26. Granny Smith Apples with Dark Chocolate and Walnuts
Foods with high levels of fiber, like apples, can help the body flush out toxins, which can lead to inflammation and clogged pores. Constipation has also been linked to skin conditions like acne. But a high-fiber diet with adequate hydration will help keep things moving smoothly.
27. Dark Chocolate and Maca Fruit Bites
This sweet treat dresses up fruit with a maca-infused chocolate and nut coating. With zinc deficiency associated with a variety of skin problems (including acne), there's no excuse not to eat zinc-rich dark chocolate. And studies show maca, a Peruvian root known for a host of health benefits, prevents ultraviolet induced skin damage.
Scruffy Chops' shampoo and conditioner for Alfie 'woof-woof-woobarb', product review, November 14, 2013
The lovely people at
Scruffy Chops
sent me over some of their products to use on Alfie.
 We were sent the *Rhubarking Mad natural mineral dog shampoo which is in a rhubarb and custard scent along with *Muddy Marvellous which is a deep sea mud conditioner. Both of them can be purchased
here.
Our puppy Alfie is now six months old and has a huge personality
He is a whippet and very mischievous! He enjoys running and jumping in the field and particularly now that it is Autumn time he gets all muddy. He's happy to run through mud and bite soil but he won't stand on the leaves that have fallen on the ground. I don't think he trusts them. He only likes when they are fluttering in the wind so that he can chase them. Which is where these fabulous new products for my little Scruffy Chops comes in very handy to not only wash away dirt but to take care of his skin too.
The package contents. Look how adorable that puppy is!
Rhubarking Mad shampoo
Muddy Marvellous conditioner
 Packaging:
I love the packaging that the shampoo and conditioner is contained in. They remind me of squeezy yoghurts. It also ensure that they stand out from the competition as it is different from other dog shampoos that are available on the market.
The cap at the top is easy to open and you simply squeeze out the desired amount of shampoo or conditioner with ease.
The logo is clear, large and easy to read. I also really like the illustration of the doggy on the packet too as it makes it super cute and I would be drawn to this in itself and buy it.
The names of the products are really inventive too and comical. The other ones available are 'Sugar Doggy' and 'Zest in Show!'

Price:
The Rhubarking Mad shampoo retails at £5.99 and the Muddy Marvellous conditioner costs £6.99 to purchase.

Performance:
Not only is the packaging brilliant but the scent of the shampoo smells good enough to eat. They contain 98% of natural ingredients and left Alfie's fur feeling soft and cared for.
The shampoo contains dead sea minerals, oatmeal, Aloe Vera, Vitamin E and Pro Vitamin B5 and these help to keep your dog's skin healthy, well hydrated and irritant free. This has helped soothe Alfie's skin as on his back he had a dry flaky patch and pinker skin in this little area.
The conditioner contains dead sea minerals, oatmeal, Aloe Vera, Shea butter and jojoba seed oil. The oatmeal helps to mend dry, irritated or itchy skin.
The shampoo was easy to squeeze out and apply. You simply put a thin line from the neck to the tail, then massage and leave to soak in for a few minutes and rinse. This left him clean and smelling divine.
Alfie couldn't believe his luck when he realised he was going to be conditioned too! The formula is smooth and again easy to apply. I massaged it in and left it to work its natural mineral magic.
I then dried him carefully and he dashed off to have a mad do and proceeded to jump on the bed and dig up the duvet cover and hide under the pillows. I think he is overwhelmed with how good he smells
I would definitely repurchase Scruffy Chops when I finish these products as they are safe to use and don't contain any nasties. They come highly recommended from me and Alfie.
Thank you again to the people at Scruffy Chops
Alfie isn't yet aware of the showery goodness of the Rhubarking Mad!
"Mummy put the Woobarb on me again!"
Laura and Alfie xoxo
By: Katherine Tomasso, Posted: October 31, 2013, from the November 2013 issue of Skin Inc. magazine.
Compared with the ablative, aggressive treatment options of the past, skin inflammation is less prevalent and less severe, yet it does still occur. Plants—and the phytochemicals they contain—are an important source of raw materials specific to the recovery process.
Primary and secondary metabolites. Plants have two kinds of active constituents: Those they use to thrive and those that appear to be secondary to growth. These are known as primary and secondary metabolites, respectively. Primary metabolites include starches, amino acids, fixed oils and fats. Secondary metabolites are other plant chemicals that, only a few years ago, were thought to be useless by-products of metabolism. Researchers now know that living organisms wouldn't produce anything superfluous. Whatever a plant's secondary metabolites, you can be sure that they have a purpose, either for the plant directly or for the benefit of humankind. Of the 900 plants and herbs used in skin care preparations, it's estimated that approximately 25% of them contain natural plant steroids and salicylates, compounds that have very potent anti-inflammatory properties. The versatile actions of botanicals indicate how perfectly the natural skin care products segment aligns with the 21st century medical spa.
Soothing, anti-inflammatory botanical ingredients
Using high-quality, botanically based products that are concentrated with essential fatty acids and lipids, vitamins, minerals and amino acids delivers a restorative action to the skin that complements procedures, such as microdermabrasion, as opposed to competing with them.
Whether irritation is the result of mechanical or chemical means, botanically rich products can support the skin through the inflammatory and repairing stages. Optimizing skin health involves hydrating, soothing, protecting, nourishing and rejuvenating actions, and plant extracts are active in each of these areas. As you seek out the best options to complement medical device therapies or rebalance the skin after a peel, look for products and ingredients that address all of the skin's needs, and specifically those that control inflammation.
Arnica (Arnica montana). This has been used for medicinal purposes since the 1500s to reduce inflammation and heal wounds. Part of the sunflower family and rich in polyphenols—the pigmented parts of plants—its main constituent is thymol, a highly antiseptic component. Arnica is also very effective at neutralizing the negative energy of free radicals.
For the rest of the article,  http://www.skininc.com/skinscience/ingredients/Botanical-Ingredients-for-the-Medical-Spa-230098161.html?page=2
Reprinted from Huff Post,  November 5, 2013, Linda Harding-Bond, President, Moontide Consulting
I have worked in the spa industry for 19 years and have had maybe three great facials in that time.
Beauty schools as a whole tend to disregard brown skin in their curriculum, despite the rapidly growing high degree of ethnic spa-goers. This omission in education not only places people of color in the lowest position of the spa professional's learning curve, it also significantly inhibits the professional's ability to market and provide service to a broad multi-ethnic base of clients.
Kelly McDonald, one of the nation's top experts in multicultural marketing and consumer trends, recently addressed this issue during my interview with her at the International Spa Association's (ISPA) Conference and Expo held at the Mandalay Bay Resort in Las Vegas after teaching their Master's Class.
So keeping it very real, I'm wondering where your insight on the ethnic experience comes from?
I'm a marketing person and I think it's our job to stay abreast of data and stats on consumer trends. I lived in Texas for 26 years and I couldn't help but notice the demographic changes going on around me, especially in the Hispanic market. That got me interested in all demographic changes and as I started digging more deeply into consumers, I took an interest in understanding how we're not this one size fits all world.
Prior to starting my own company I was director of client services for one of the top Hispanic ad agencies in the country. What I found is that marketing to Hispanics is one particular approach that is of interest to a lot of brands, consumers and companies. Usually if they are open to that, they value all customers. So that opened the door for me in terms of marketing to ethnic customers, I sort of hung my skills in that area and then broadened them as I got more clients.
Is this your first presentation for people in the spa and wellness arena?
Yes it is. I'm very excited as it is my first time being here.
What do you think was ISPA's motivation in presenting such a hot button issue?
That's easy. I think that ISPA is very forward thinking and they're paying attention to the fact that consumers are becoming more diverse across the country. Any business should want to cater to a growing customer base, so if you're in the spa industry you have an opportunity to reach out to customers that you probably previously hadn't made an effort to cultivate.
How do you think your presentation was received?
It was received very well. It was gratifying to have over 200 people attend the class who not only came in a day early and spent their Sunday learning how to grow their business; I mean they could have been out by the pool but they were in that session because they value this information, and understand it enough to know that they need to get educated about the right approach, why it's important and how to do it correctly.
Were you seeing "major players" and large hotels?
Yes, I didn't have a chance to speak with everyone but several people mentioned that they were the operators of well know brand name Five-Star properties all across the country.
Let's take this a step further. What is it that business owners need to do with regard to "operational readiness" as you call it in your book?
I think it all begins with operational readiness.
The analogy that I use in my book is that you don't throw a party before cleaning your house and stocking the bar; do that first and then you invite the friends over. It's about employee training, continued emphasis on customer focus and continually refining your customer approach. Owners have to keep their ear to the ground and listen to feedback.
So the number one piece of advice that I would offer to anyone trying to reach out to a new customer base is this; if possible hire someone from that market group!
If you want to reach senior citizens it would be helpful to have someone who's senior on staff because they're going to understand that perspective. If you are trying to reach African Americans at your spa, you need to have some estheticians of color. If you want to reach Hispanics then get someone on staff that has language skills. It's not that hard to understand; people gravitate to people they feel comfortable with and often that is someone who looks like them, speaks their language, is their gender or in their age group.
My personal concern is the inability of many Five-Star spas to offer knowledgeable quality service for my skin.
They've got to educate and train their staff or get the right people in there who can help those customers with their skin or wellness needs. I don't suggest that it's an easy proposition, it requires a business owner to really look at their clientele and say — "Where's our high potential prospect, how do we go about getting them? Are we in fact prepared to deliver the kind of spa and brand experience that all of our customers have come to expect from us, not just our White customers but all of our customers?"
Kelly what is the takeaway that you want to share?
That diversity is a business opportunity. It isn't the right thing to do, or the politically correct thing to do. It's about that but not just about that. The reason to do it is that it will grow your business. Not just the volume but more importantly it will cultivate customer loyalty. Your staff will be better; your business will be healthier and less receptive and vulnerable to market conditions.
Reprinted from Skin, Inc. 
By: Whitney Johnson
Posted: October 31, 2013, from the November 2013 issue of Skin Inc. magazine.
The quest for healthy, timeless skin has never been more complex, or more promising for both skin care professionals and clients. Today, the skin care industry is experiencing a dynamic fusion of new equipment with traditional techniques to form a modern hybrid modality. This multidimensional skill-set empowers skin care professionals to address client concerns effectively and safely with reliable, consistent and measurable results that form the bedrock of customer loyalty. For your business to truly thrive, your skin care facility needs to place all of the core modalities—including state-of-the-art equipment—into an equation that results in profits and happy clients.
No longer either/or
Once upon a time, it was either high-touch or high-tech. Skin care professionals either relied purely on classical hands-on techniques, perhaps aided by a bit of aromatherapy, or they quickly embraced the newest technologies, which blurred the line between traditional skin care and clinical medical spa practices. The most famous? Botox, followed by other injectables, lasers and chemical peels. These are ubiquitous, but must be considered very carefully before integrating them into your practice.
Today's client is in the position of demanding the best of all worlds, and skin care professionals must discern carefully between which treatments and services are compatible with the business they truly want to develop. When evaluating whether or not to include a specific service on your menu, it is wise to closely examine the needs of the client. For instance, injectables changed the expectation level of skin care clients everywhere because they deliver instant, visible change. Be sure that you and your clients understand that there are more elements than just instant change to a long-term skin health program.
Another significant change in clients' expectations is the insistence upon little-to-no downtime. A client is no longer willing to retire to her chamber for two weeks while recovering from a peel, microdermabrasion or cosmetic procedure. In fact, today's client would rather not even tolerate redness or splotchiness immediately after a skin care treatment involving extractions. The service must melt seamlessly into her day at the office or evening plans—today's client is more time-sensitive than any other in history.
The future's dynamic duos
The meat of the matter is treatments. Because current technologies are rapidly evolving, they can be combined with key ingredients, including designer peptides, salicylic acid, white tea, yeast extract, oatmeal, red hogweed, ginger and bisbolol in new and powerful ways with less risk, decreased downtime and superior results.
Following are some methods and tips that combine ingredients and modality technologies to take your treatments to that next level.
1. Microdermabrasion and alpha hydroxy acids (AHAs). In this combination, skin can be exfoliated with microdermabrasion prior to an application of key AHAs, resulting in increased penetration.
Low-tech method. Don't have a microdermabrasion machine? Never fear! Double up on exfoliation or use a brush with a power cleanse setting that can also remove dulling buildup and debris, and aid in product penetration. This is excellent to use before a high-frequency or a light-emitting diode (LED) treatment. Also, consider pairing your brush with a gel-based cleanser and a granular scrub, or use a micro-exfoliant to gently exfoliate the skin before the next exfoliation step.
Home-care recommendation: Send your clients home with a cleanser and brush they can incorporate into their routine. If they already have a brush, clue them in to products that will work best with it.
2. Ultrasonic blade and cleanser. Cleanse the skin and incorporate an ultrasonic blade for deep cleansing of oily skin or to enhance exfoliation ingredients.
Low-tech method. Don't have an ultrasonic blade? You can still achieve a deep-cleanse effect by performing a double-cleanse routine. Perform the first cleanse with a product that will remove surface oils, debris and makeup, then create a target-specific cleanse for the second one, such as an antibacterial cleanser for acne, or a creamy exfoliating cleanser for treating pigmentation or aging concerns.
Home-care recommendation: Teach your clients the benefit of a double-cleanse. Instruct them to incorporate the double-cleanse routine with products they have at home, or supplement their current products with recommendations from your retail area.
3. Galvanic and LED. For stubborn breakouts, combine galvanic desincrustation with a blue-light LED this treatment to help eliminate Propionibacterium acnes.
Low-tech method. Don't have blue-light LED handy? Use high-frequency combined with a spot treatment using ingredients, such as benzoyl peroxide and vitamin C. Not only will these ingredients help dry out breakouts, but vitamin C will also help minimize post-inflammatory pigmentation that can be left behind. Utilize ingredients that are excellent for drying acne lesions, including salicylic acid, niacinamide or benzoyl peroxide.
Home-care recommendation. Suggest your clients purchase an at-home spot treatment and instruct them to continue treating breakouts between appointments.
4. Iontophoresis. Increase the penetration of active ingredients, fight wrinkles in aging skin, and soothe rosacea or reactive skin with iontophoresis.
Low-tech method. Not sure if you have galvanic iontophoresis? For wrinkle-fightening, use an ultrasonic blade (end up) to increase product penetration and smoothing. Combine a targeted serum or complex that contains designer peptides—such as oligopeptide-34 for pigmentation, hexapeptide-11 for aging or acetyl tetrapeptide-15 for sensitivity concerns—following application of a cream- or gel-based mask. Not only will iontophoresis help the serum or complex absorb into the skin, but the mask will also help minimize dehydration lines.
Link here for remaining article……http://www.skininc.com/treatments/equipment/Skin-Synergy-The-New-Equipment-Equation-230091981.html?page=2
November 8, 2013 by Deborah Evans-Parker
Filed under Aesthetics, Care of the Massage Therapist, Golf Ball Massage, Health and Healing, Healthy Lifestyles, Massage Therapy, Spa Industry News, Spa Licensing, Spa Management, Spa Marketing and Branding, Spa Operations, Spa Retail, Spa Treatments, Spa Trends
SPAball Golf Ball Massage Licensing Available to Spas.
Original Article posted in the November issue of American Spa Magazine and online.
GBM (Golf Ball Massage) Health is now offering licensing of SPAball Massage packages to spas and resorts worldwide. The company introduced its use of golf balls and its patent pending SPAball Kaddy for therapeutic massages a few years ago. Now, the SPAball Kaddy, the first ergonomically balanced, cup-like device that cradles a standard golf ball, allows the therapist to push more deeply into the muscles, providing more targeted, therapeutic results. Therapists trained in the specialized practice of SPAball Massages can offer three different packages at spas and resorts internationally: Gold Essential, a deep massage with stretches and techniques to help a golfer perform better; Deep Essential, a deep tissue with special cross fiber techniques to help prevent injury and relax sore muscles; and Relax Essential, a therapeutic and relaxing massage with deep rolling techniques. These packages also include a free SPAball Kaddy for self-care to use between massage services, providing customers a guide for health empowerment at home, in the office, or while traveling.
For more information on the SPAball Massage service, how to get it licensed at a spa, or to find out where it is being offered visit: www.SPAballMassage.com
November 6, 2013 by Deborah Evans-Parker
Filed under Golf Ball Massage, Health and Healing, Healthy Lifestyles, ISPA, Massage Therapy, Personal Care Products, Spa in the News, Spa Retail, Spa Treatments, Treatments for Men, Uncategorized, Wellness Treatments
Four days, 45 hours of conference time, 19.25 hours on the expo floor and good times with friends in the evenings… ISPA 2013 officially came to an end!  While we had a blast introducing our three new lines at the show, we were exceptionally grateful for our DEEP Tissue Massage Therapy line, Golf Ball Massage, and their new licensing offer exclusive for spas, SPAball Massage.
Our team made sure to relax and unwind nightly using our SPAball Kaddies with tips and tricks from the creator, Heather Karr. 
What is a SPAball Kaddy?
A few years back, the folks at GBM Health, Inc. started a unique revolution with the original and innovative use of golf balls and their patent pending SPAball Kaddy™ (pictured below) for therapeutic massages.  The SPAball Kaddy is the first ergonomically balanced, cup-like device that perfectly cradles a standard golf ball for massage. TheSPAball Kaddy allows the therapist to push more deeply into the muscles, while still remaining "in-touch" with the client, providing more targeted therapeutic results.
A little set-up and background — the SPAball Massage offerings center around the SPAball Kaddy product line designed by GBM Health, Inc. With the success of the product line created a need for spas to have consistent deep tissue massages they could offer to guests no matter what therapist or location they were at. Due to this demand, the company is now able to offer licensing of the exclusive "SPAball™ Massage" packages to spas and resorts worldwide.  
 Therapists trained in the specialized practice of SPAball Massages will be offering three different deep tissue massages at spas and resorts internationally:
 Deep massage with stretches and techniques to help a golfer perform better and improve their game.

 Deep tissue with special cross fiber techniques to help prevent injury and relax sore muscles
Therapeutic yet surprisingly relaxing with smooth, deep and rolling techniques with the tool
 It bears repeating, the interesting and unique aspect about each of these special massages is that they are all done exclusively with the SPAball Kaddy, the original golf ball massage tool. These massage packages even include a free SPAball Kaddy for self-care to use between massage services, providing customers a guide for health empowerment at home, in the office or while traveling.
 The Original Golf Ball Massages, now expanding to the SPAball Massage offerings, have been increasingly popular with a growing fan base; including celebrities, medical professionals and golf industry pros: READ HERE for more information on this new SPAball Massage service and how to become a licensed spa or resort.
 SPAball Massage's new license program allows spas to offer specific massages geared for:
Relaxation

Deep tissue

Golfer's massage
 SPAball Massage licensing program provides:
Detailed training DVD's (6)

In-depth training manual

Treatment protocols

One hour Skype training session with Heather Karr, the developer

Onsite training available

Listed on the www.spaballmassage.com website

Marketing on our active social media promotions and PR.
The massages have gotten rave reviews and allow your team to offer deep tissue massages with reduced risk of injury to the therapists. They can now perform more consistent, deep work throughout a day without tiring or using thumbs and elbows with the SPAball Massage techniques. Bonus! Since the hand cups the SPAball Kaddy and golf ball, the massage therapist doesn't lose skin to skin contact and the client often does not even know the golf ball is being used due to the fluid, seamless massage.
With the SPAball Massage program you also give away a SPAball Kaddy unit with each massage and build the cost of the unit into your treatment prices.  Sending your clients home with a wellness tool. We use specific SPAball Massage golf balls (for retail and therapist use) with the license program, so it is distinguished and exclusive to licensed spas only.
November 6, 2013 by Deborah Evans-Parker
Filed under Aesthetics, Detox, Esthetics, ISPA, Massage Therapy, Natural Skin Care, Personal Care Products, Spa Retail, Spa Treatments, Uncategorized, Wellness Treatments
ISPA 2013 was the place that spa professionals gather to grow.   Over the conference's four days we heard speeches from 18 industry experts, 5 keynote speakers, made new friends, introduced THREE new spa lines and saw some of our Spa Family that we haven't seen all year!   Yes, we grew.   
New to the US spa market and debuting at ISPA 2013 is the authentic mineral concept line from the United Kingdom, Spa Find. This family owned business has been helping people look and feel their best with mineral mud, salt and seaweed based body care, face care and spa treatments since 1981.
 Spa Find is currently trusted by over 1,500 salons around the world and is now crossing the pond to share Sanitas Per Aquam = health through mineral water.
Mineral therapy has been used for centuries to utilize the natural powers of mud, salt and seaweed to  tone and firm the body and face, ease muscle tension and deeply relax the body and mind. Almost every skin condition or complaint is partly caused by a mineral or vitamin imbalance within the body.
By using Spa Find products, the mineral levels within the body can once again begin to normalize and bring inner health back into balance. This line heals from the inside out!
Learn more about mineral therapy and how Spa Find can help your clients remineralize with  very competitive professional treatment costs.  Here is a quick summary of the unique spa treatments Spa Find offers……..
Spa Find Marine Miracle Algimud Body Contouring Treatment
Marine Miracle tones and firms the skin, improves cellulite and nourishes the skin. This modelling mask uses a unique formulation of seaweed, Dead Sea Mud and plant extracts, which have combined powerful effects to eliminate cellulite and tone the body contours to detoxify and firm the body.
Spa Find Heavenly Hot Poultice Massage
is based on ancient Thai and Egyptian techniques
using hot mud or salt poultices to ease muscle tension
and deeply relax the body and mind.
……………………………………………………………………………………………………………………………………………………………………………………………….
Spa Find's Dead Sea Minerals in their purest form come as Mineral Salt and Mineral Mud.
 *Recommended  all skin types.
*Naturally creates healthy, glowing skin from the inside out.
*Relieve general aches, pains and strains of modern day living.
*Retail lines loved by therapists and price points that will keep your customers repurchasing
*Convenient Online Ordering
It is not to late get a game plan together for your spa, hotel or resort this holiday season. See below Elizabeth Wasserman's tips on how to prepare for the holiday season by generating customer loyalty, implementing timely marketing, and determining inventory size.
Many small and mid-sized retailers will do as much as 20-40 percent of their annual 
sales
 in the final two months of the calendar year, according to the National Retail Federation (NRF), the nation's largest retail trade association. It's fair to say that, for many businesses, the holiday season is a crucial make-or-break period during which they earn the profits that they must live off of for the slow first months of the next year.
"It's an absolutely critical period for maximizing sales and profits, and for squirreling away the necessary cash to carry the business until the spring selling season blooms anew," says Ted Hurlbut, a retail consultant and principal of Hurlbut & Associates. "September, October, and November are critical months for small retailers. Good planning then leads to the kind of December that will set them up to go into the New Year in a strong position."
The following pages will detail how to distinguish your small business during the holiday season, how to develop a sales plan for the holidays, and how to use marketing strategies — including online — to boost holiday sales.
Laying the Groundwork for Holiday Sales
Get started by generating customer loyalty.
"If price is driving any of the equation in any shape or form, they're going to lose," John Jantsch, marketing coach and author of the book and blog Duct Tape Marketing (2008 Thomas Nelson)." There are some very large chains giving away the store. The Abercrombie and Fitch and Gaps of the world are fighting for their survival. You have to find a way to be different that in many ways is not related to product you're offering."
One of the advantages small businesses have — in particular, retailers — is that they have a presence in the community that can be used to their advantage. Here are ways to use this attribute to distinguish your business during the holidays:
Theme or localize your holiday promotions. Don't just tout your products — that's something Wal-Mart can do a lot better and with a bigger budget than you. Highlight themes that may be relevant in your community and among your customers. "While people may be cutting back, they are seeing more of a return to family oriented, more traditional things," Jantsch says. "Develop holiday themes by tapping into some themes like that, not just based on your products."
Reach out to church, community, or school groups. Build customer loyalty so that your patrons wouldn't dream of abandoning you during the holidays. Donate products to charity auctions. Sponsor local events.  Reach out to local non-profit groups and let them borrow your space. Jantsch says he knows of a dime store in his community in Missouri that has built up such loyalty that "people would feel guilty about shopping someplace else."
Sponsor demonstrations or events. Become known in the community for bringing in artists or craftspeople or speakers for public events. Jantsch knows of a small book store that has beat out the big chains by hosting author lectures by the likes of Garrison Keillor. The store is able to books at full price whereas large chain stores have to offer steep discounts.
Developing a Holiday Sales Plan
Choose your merchandise assortment wisely. When it comes to actually pinpointing what merchandise to stock and how to market these products during the holidays, the best strategy is to narrow and focus merchandise assortments, so that by the end of the selling season, the weight of the remaining inventory is on the proven best sellers, Hurlbut says. "Even retailers whose focus the rest of the year is on offering their customers a complete shopping experience must recognize that at this time of the year, the business must become item driven," he says.
The goal is to stock the products that your customer wants. During the holidays, shoppers' objectives evolve from considering a wide range of potential gift items to pinpointing particular products that they know "can't miss." In the last few days of the season, they are likely looking for one or two items they know will be just right for their friends or loved ones. Stocking merchandise assortments that meet customer expectations will ensure that sales and profits are maximized — and markdowns are minimized.
Here are steps you can take to develop a holiday sales plan:
 Narrow merchandise to focus on your best sellers. The products that sold best in September, October, and November are likely to be the key items to drive your sales in December, as well, Hurlbut says. "These are items that customers have demonstrated they want to buy from you and that you simply can't afford to run out of before the season ends," he says. "Shift your focus from being fully assorted to being narrow and deep by identifying those key items."
Finalize plans for November and December sales. Use the information you have about sales in your industry and the information you have about your holiday sales so far during the year to get a sense of what type of increases to anticipate in November and December. Use that data to forecast how much of your best-selling products you can reasonably expect to sell and to estimate what share of overall sales those items will make up. This is a critical step, Hurlbut says. "It's not enough to identify your best selling items," he says. "You must also quantify how many units of these items you expect to sell, and how that fits back into your overall sales plan."
Determine how much inventory you want to end the season with. Planning an ending inventory to the holiday sales season assures that you won't run out of your best-selling items too early and lose critical traffic during the last few weeks of the season. Inventory planning is critical to profitability at this time of year, Hurlbut says. Determining the right level of inventory is a delicate balance. You want to keep your best items in stock to attract and win customers. At the same time, you want to avoid excess inventory that will force you to markdown heavily at the end of the season – that takes a bit out of your profits. Plan your inventories prudently and you'll be able to increase sales by driving your sell through, while protecting your margins and profits.
Develop detailed purchasing plans for the rest of the season. These plans should grow directly from your sales and inventory plans and should detail items, delivery dates, quantities by delivery date, and vendors, Hurlbut says. "Focus your purchases on your best selling items," he says. "Clearly communicate your needs to your vendors, and seek out alternative sources if your primary vendors aren't positioned to meet those needs." If a product is hot, some vendor will have it — or at least an acceptable substitute. Locating it can be critical to the success of your holiday sales season.
Take steps while the holiday season is underway. Once you have developed a detailed holiday sales plan, you can't just sit back and rest on your laurels. A small business needs to remain nimble and able to respond quickly to market events and surges or drops in demand. The following are steps you can take to stay on your toes during the holiday sales season:
Stay on top of vendors. Timely delivery from your vendors has never been more important. Your vendors can make or break your holiday sales. Punctual deliveries can mean the difference between selling through your inventory and maximizing your gross profit, or receiving your stock too late and having to take post-season markdowns, which will hammer your profits. "Expedite your deliveries with your vendors," Hurlbut advises. "Expedite, expedite, expedite."
Identify slow sellers and mark them down. This is the flipside of identifying your best sellers. Just as you used sales figures from September, October, and November to identify hot items, your results from those months can also help you identify the slow sellers of the season — the turkeys. These are the items that did not move at full retail price and it's important for your bottom line to clear them off your shelves — even at a discount — than when those items are competing with other clearance items later on. Hurlbut recommends discounting those slow sellers by 30 percent early on to help move them out, rather than slashing prices by 50 percent to 75 percent later on. "Further, by clearing them out early, you free up your displays to focus your customer's attention on your key items," he says.
Plan for post-holiday gift card redemptions. Gift certificates and gift cards have become an increasingly important component of holiday gift giving. Retailers that offer gift cards earn the revenue before the holidays, but are at the mercy of customers as to when they use the cards to buy merchandise. The NRF survey of holiday shoppers found that only 36 percent of gift cards were redeemed within the first two weeks after Christmas. "The critical objective is to redeem them for full margin sales, rather than clearance sales," Hurlbut says. "If you've planned your inventory prudently, there's not likely to be as much clearance inventory, and there's room to bring in early transitional inventory in mid-December, which doesn't have to be marked down and can be sold at full margins."
Timely marketing to drive holiday sales
E-mail marketing. The holiday season is a good time to use the e-mail list of customers that you have been compiling all year. But while the holidays may be a good time to send out a coupon or gift certificate that they can share with a friend, it shouldn't be the first time that your customers are hearing from you. "If you've been doing the right things and building a list all year long, you should take advantage of that. It's still one of the most cost effective means of marketing with the highest returns," says Jantsch. "But this can't be the first time I've heard from you, when all of a sudden you're desperate for holiday sales. You should be sending out alerts about new products, a show you went to, trends in color — those are the types of things you should be sending out all year long."
Online ads. There are a variety of ways to advertise your holiday promotions online. You can buy ads on websites frequented by your customers. You can also buy keywords from search engines, such as Google and Yahoo!, which will promote your website when someone searches the Internet using those terms. In addition, a new twist has been added recently — targeted online advertising. Businesses can now target their online ads based on demographic information, such as location or age or gender. The major search engines now offer more customized options for ad placement, such as demographic targeting (age, sex, or ethnicity), geographic targeting, and contextual targeting.
Social media marketing. Social media — such as social networks and blogs — present another opportunity for advertisers. But it's been difficult for advertisers to measure ad effectiveness when the social media audience is so fragmented — until now. Keeping customers engaged about issues using a blog is one good marketing tool. Alerting them to last-minute sales via Twitter feeds might also be useful when it comes to the last few days of the holidays — and unlike so many other promotions, it won't cost you anything.
Reprinted from Huff Post Travel, November 5, 2013
It's no secret that massages can alleviate plain, relieve stress, and increase your overall wellbeing.
But in some parts of the world, the usual Swedish, hot stone and deep tissue massages aren't the only options around. How about getting massaged with knives or by an elephant?
Check out some of the world's most unusual massages below, some of which we can't help but feel a little unrelaxed about:
Cactus Massage

It sounds uncomfortable but the cactus massage is a specialty at the Four Seasons Punta Mita, Mexico. Don't worry! Thorns are pulled out before the cactus paddles are heated in warm water. They are then cut in half to expose the gooey interior used to massage your body.
Massages By The Blind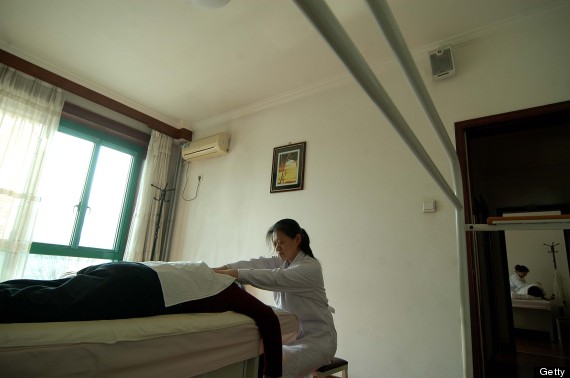 Popular in many Southeast Asian countries, a blind masseuse's increased sensitivity to touch is key to a better massage.
Knife Massage


Revived in Taiwan, this ancient Chinese practice uses two cleavers to gently pound the back and shoulders, releasing the body's energy and helping blood flow.
Snail facial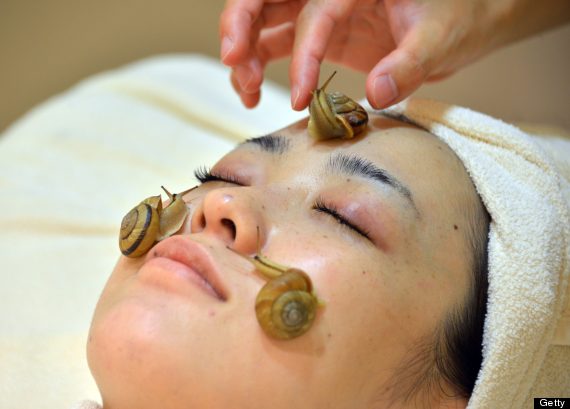 Spas in Russia, Japan, and the U.K. have taken facials to a new level. The snails are placed on your face and left to glide around your face, leaving behind their slime, which can recover damaged skin.
Snake Massage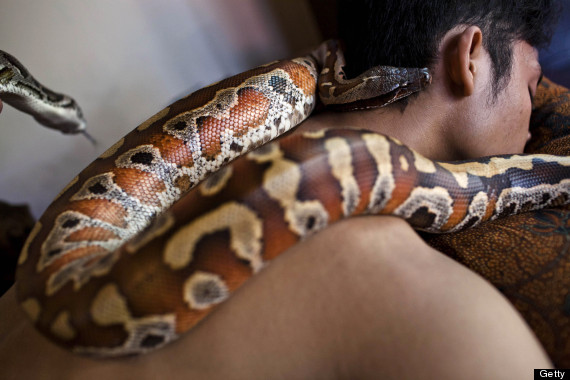 A spa in Israel uses a combination of six non-venomous snakes to massage your body, alleviating muscle pain and soreness. The bigger the snakes, the deeper the massage. In Indonesia, the combination of pythons slithering on your back and the inducing fear is thought to help with metabolism.
Elephant Massage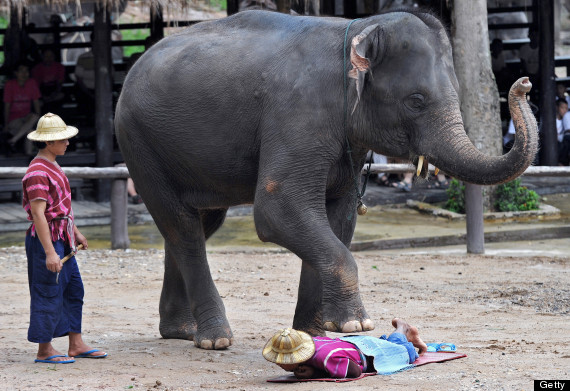 An elephant show in Chiang Mai, Thailand, allows a trained elephant to massage you by gently stepping on your back.
Venik Massage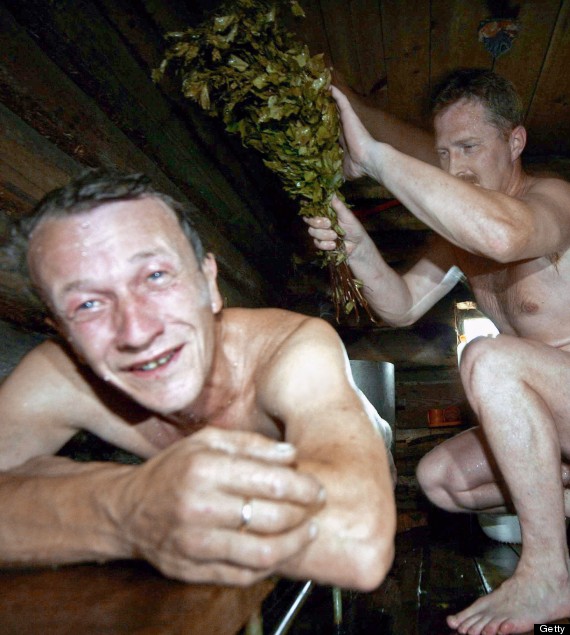 A part of Russian bath, the massage involves hitting you with a bundle of heated twigs – made of birch, oak or eucalyptus – which is said to help exfoliate the skin.
Gua Sha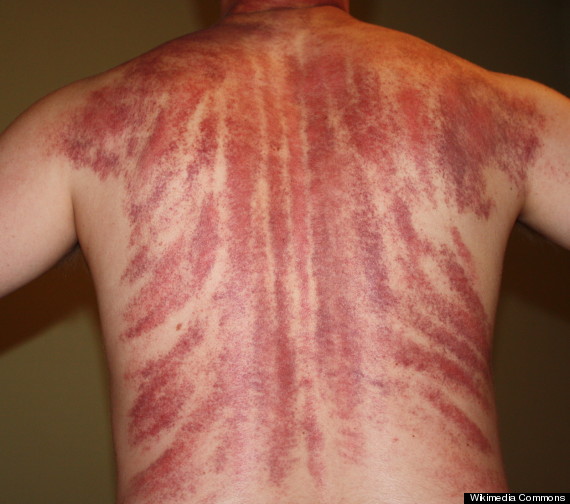 A traditional Chinese technique, a spoon, coin or similar tool is used to scrape problem areas to relieve pain and tightness.
Fire Treatment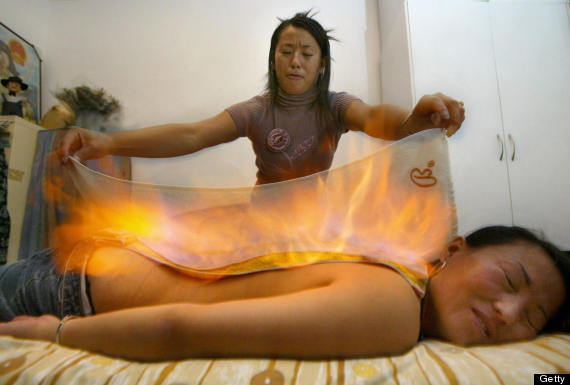 An ancient Chinese medical treatment, a towel is soaked with alcohol and an "elixir" of sorts and placed on problem areas. The towel is then lit up for a few seconds.